iPads are humans, too.
Well, er, not really. What I'm trying to say is that like everything else, your iPad will encounter problems every now and then that would likely cause you some solid headaches. But hold up! Before you tell Siri to call to tech support, you might want to try these things first and try to troubleshoot your iPad yourself!
First, Cover Your Bases
Before you go full tech-surgeon on your iPad, do the following:
Reboot. The first rule of troubleshooting any device is "when in doubt, reboot." The majority of your iPad's problems can often be fixed by doing a hard reset by pressing the sleep/wake button and holding down the home key simultaneously. So before doing anything else, save yourself some grief and reboot your iPad and check if that fixes the problem.
Close Apps. Battery draining too fast? That might have to do with too many apps running on the background. You might want to close apps that you're not using to free up some memory and save some of your battery juice for better use.
Check for Corrupt/Buggy Apps. If your iPad is constantly freezing when you open an app, it might be an issue with the app, not with your iPad. Poorly designed apps can often be buggy and may end up corrupt after some time, so you should check if it's an app issue first before troubleshooting.
Try Restarting the Router. Just because your iPad won't connect to your WI-Fi, it doesn't mean your iPad is broken. Maybe you just have bad connectivity. Try restarting the router to refresh your connection, or call your ISP and confirm if there's a problem.
These quick fixes typically resolve around 60% of iPad problems out there, if not more. But sometimes, the problem will persist, and that's when you'll know that you have a situation in your hands.
But don't rush over to your local Apple store just yet. Try these troubleshooting tips first: 
My iPad Screen is Frozen
If you've tried rebooting to no effect, then you have two options at your disposal
Let it Go. No, not your iPad, the app in question. Most screen freezes happen when users open a buggy or corrupt app. If that app doesn't mean life and death to you—and I doubt that it is—then delete it and find a better-coded alternative in the App Store. Do a long press on the app icon and drag it over to the "X" at the top of the screen to uninstall the corrupt app.
Restore your iPad. If you've deleted all suspicious apps but your screen still freezes, then it might be a good idea to restore your iPad to Factory Default Settings. This will get rid of any and all software bugs that might be plaguing your device by resetting it back to its original state. Connect your iPad to your PC/Mac, go to iTunes, select your device and press Restore. Don't forget to backup your iPad.
My iPad won't Charge
iPad not charging? Troubleshoot using these steps.
Check your Power Source. If you've checked the battery meter and you see the words "Not Charging", then that usually means your power source doesn't have the capacity to charge your device. You might be using an old USB port that doesn't supply enough electricity to your iPad. To be safe, just plug your iPad to a power outlet near you.
Check your Cable. If you're plugged into an outlet and have restarted your iPad to no avail, then you might have a problem with your Lightning Cable. You might have to bring out your spares to see if your iPad charges with those, or simply try connecting your device to your PC/Mac to determine if it has a problem.
My iPad won't Power On
If your iPad won't turn on, don't panic just yet. Try these troubleshooting tips:
Try to Power On Using Hard Reset. If the power button won't work, then try to turn your iPad on by resetting it. Hold the Sleep/Wake button down and the Home button simultaneously and wait for 15 seconds. Your iPad should restart and show you the Apple logo.
Charge your iPad. If that doesn't work, then your iPad simply might not have enough power to power on. Plug your iPad on a nearby outlet and try the power button again.
My iPad won't Connect to Wi-Fi
Can't connect to Wi-Fi? Read on and troubleshoot.
Make Sure Wi-Fi is Enabled. If you're having trouble connecting to the internet, the cardinal rule to remember is to make sure Wi-Fi is enabled in your settings. Check Settings > Wi-Fi and see if it's on.
Reset Network Settings. You can also try resetting your Network Settings by going to Settings > General > Reset > Reset Network Settings.
Turn Off Wi-Fi Networking. If that doesn't work, try turning Wi-Fi Networking off by going to Settings > Privacy > Location Services > System Services. Reboot your iPad and see if it works.
Forget the Network. If all else fails, try forgetting the network. Click the "Forget this Network" button at the top of your Wi-Fi settings, then try to connect again afterwards by retyping your password.
My iPad won't Rotate
Not all apps can be rotated; it's just the way certain apps are designed. But if you're absolu-positively-sure that that particular app can rotate, or if you're stuck at landscape or portrait even on your home screen, troubleshoot using the following steps:
Turn Rotation Lock Off. Open the Control Centre by swiping up from the tip of the bottom bezel to the top of your iPad's screen. Then look for the "Lock Rotation" button and tap it to turn it off.
Restore your iPad. If you already did a reboot in hopes of fixing this problem but didn't get any results, you might have to restore your iPad to its Factory Default Settings. (see #2 of "My Screen is Frozen" above for more instructions)
Safari Keeps Crashing
Getting errors on the Safari App? Try these steps:
Do a Full Clear. If the app keeps crashing, go to Settings > Safari and click on Clear History and Clear Cookies and Data to troubleshoot.
Erase All Content and Settings. If the first step doesn't do the trick, it might be time for a Reset. Go to Settings > General > Reset > Erase All Content and Settings. Don't forget to backup your important files.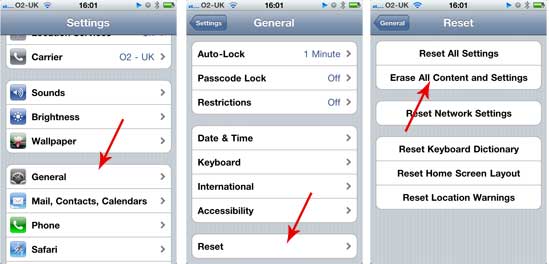 Ghost Typing!
If you're absolutely certain that you or your iPad aren't possessed by a playful poltergeist, then try the following steps to troubleshoot this pernickety problem:
Clean your Screen. If a reboot doesn't fix it, grab a microfiber cloth, damp it slightly and give your screen some good old wiping. iPad screens rely on its touch sensors to function, and there might be some foreign elements there that're triggering your virtual keyboard.
Restore your iPad. If that doesn't work, you can restore your iPad to its Factory Default Settings. (see #2 of "My Screen is Frozen" above for more instructions)
Who Ya Gonna Call?
While these troubleshooting tips fix the majority of iPad problems, they don't fix everything. If you tried all these tips but the problem still persists, Call Apple Support or go to your nearest Apple store for assistance.
Jul 14, 2017

Category:

Articles
Comments: 0