There are times in our lives that make us rant and rave like deranged lunatics, and finding an "iPad is Disabled" message on your iPad is one of those times.
Now, now. Before you blame your children or your dog, or give Jenny from your local Apple Store an irate call, you must know that this "error" is actually a security feature designed to keep your privacy on your iPad safe. Your iPad automatically "locks" itself after you (or somebody else) input the passcode incorrectly one too many times. This prevents thieves or your brown-nose friends from peeking into your personal files and info on your iPad—granted they don't know your passcode.
But sometimes you just suddenly forget your passcode, you know? That, or you left your iPad on the sofa, and the cat thought it was a good place to take a nap, and somehow your iPad thought you were inputting all these wrong passcodes, and it was like "nuh-uh!", and… uh, errrm—you get the idea.
So if you want to learn all the known possible fixes to an iPad that's been disabled, read on!
Method 1: Recovery Mode via iTunes
One of the most common and surefire ways to get rid of an iPad disabled error is by going into recovery mode and performing a restore on your iPad. To do that, perform the following steps in order:
Connect your iPad to your PC. Get your trusty lightning connector and connect your iPad to your computer.
Run iTunes. Open iTunes on your computer, and make sure you're running the newest version from the App Store. If it was running before you connected the cable, you may have to close it, plug your device in, and run it again.
Initiate Recovery Mode. With your device connected and powered down, press and hold the Home button and wait until the Apple logo appears. After a while, it will show the "Connect to iTunes" screen. Once it appears, you can release the Home button.
Choose Restore/Update. Look at your computer screen. You should see a pop-up box saying that you have successfully entered Recovery Mode. You should see the "Restore" and "Update"—"Restore" only if you're running the latest OS. Choose either option to restore your iPad to its Factory Default Settings.
Set-Up and Back-Up. You will have to set-up your iPad again. Also, just as a precaution, back-up your files through iTunes or via iCloud.
Your iPad should be spic and span now that you've done a restore. Unfortunately, this method doesn't have a 100% success rate. So what do you do if this method doesn't work? Well, there are other options you can try to fix that pesky iPad disabled error.
Method 2: Restore from iCloud
If the traditional iTunes method doesn't work for you, you might want to try restoring your disabled iPad via iCloud. However, note that this will erase all the content and settings on your device. If you wish to proceed, follow these simple steps:
Access your iCloud Account. On any device, go to https://www.icloud.com/#find to access iCloud's Find My iPhone feature. If you're asked to, sign in using your iPad's Apple ID.
Pick your Device. You should see an "all devices" button near the top of your browser window. Select that, then pick the device you wish to erase.
Click Erase [iPad name]. Click the Erase button that appears to erase your device. This deletes all your content and settings, as well as resets your passcode.
Turn on your iPad. You will be greeted by a welcome screen. You may have to wait a few minutes until iCloud finishes erasing your device. Make sure that you have a steady internet connection.
Reboot. Reboot the iPad to access the Activate iPad screen, where you must enter your Apple ID and password
Set-Up your iPad. You'll have to redo the set-up process you did when you first got your iPad.
Restore from Back-Up (Optional). If you have a back-up available on iCloud, tap the "Restore From iCloud Backup" on your iPad. Next, tap "Choose Backup" and select the most recent one, to back-up your iPad without the passcode.
Method 3: Use Computer Software
Alternatively, you can opt to use third-party software on your PC or Mac to get rid of your iPad disabled error. Below, you can find information about iPad Data Recovery and how to use it to restore your disabled iPad.
iPad Data Recovery is a free Windows/Mac application that allows you to restore your device without going to either iTunes or iCloud. This tool is handy for instances when you can't access iTunes for whatever reason, but need your iPad up and running ASAP.
Download, Install, and Launch. Download the iPad Data Recovery installer version suitable to your respective device. After completing download, install, then launch when ready.
Connect your iPad to your Computer. Once the tool is running, connect your device to your Mac or PC using your lightning connector. If you did this properly, you should see a note saying "Device Connected".
Select "Recover from iOS Device". You should see three tabs to the left of the tool window. Click the top choice "Recover from iOS Device"
Press "Scan". After that, click the "Scan" button which appears. Wait until it detects your iPad.
Choose Which Items to Restore. You will be given an overview of all content, neatly arranged into distinct categories. Here, you can opt to restore your data either in part or as a whole.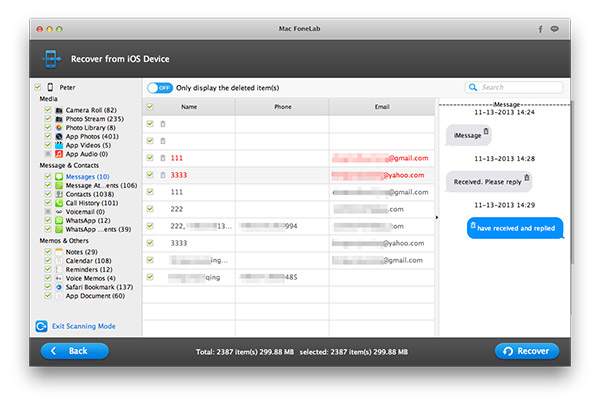 Click Restore. After you're done choosing, click the Restore button at the bottom-right of the window to restore your iPad.
Set-Up or Back-Up. As with the other scenarios, you will have to re-do your set-up process all over again. Don't forget to restore from back-up if you have one lying around on iTunes or iCloud.
Pro Tip: If you're not a big passcode fan and could care less about your privacy on your iPad, you can opt to turn your passcode off to avoid the headache of an iPad disabled error. Go to Settings > Touch ID & Passcode and select the option "Turn Passcode Off"
There you have it—3 tried and tested ways to fix an iPad with an iPad disabled error. Try these out the next time you find your or your friend's iPad disabled!
Extra Tip: Learn how to fix common iPad problems now!
Aug 11, 2017

Category:

Articles
Comments: 0